JOURNEY IN TIME – 1100 Years of Living in Göttingen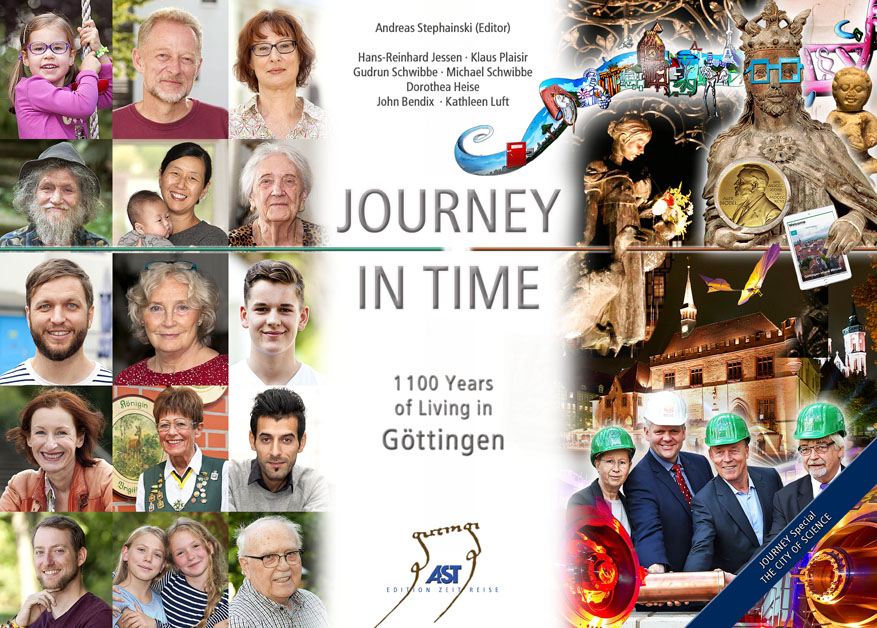 Welcome to Göttingen, the historic university city with a long and eventful history, into which we as journalists are breathing new life by examining all its many facets, both its ups and its downs. What matter most to us are the "little stories" that tell us so much about the city and the people who live in it.
Are you interested in research and teaching since the founding of the Georgia Augusta in 1737?
In THE CITY OF SCIENCE we travel with you from the earliest roots into the future; here, you'll also learn how many offerings this modern and international university provides for its researchers and students from other countries.
Would you like to experience THE CITY OF CULTURE?
Come with us to visit the Göttingen Symphony Orchestra and the Deutsches Theater, and stroll through the event-filled city with its many live performances and trendy bars!
You really should get to know the BEACONS OF THE REGION, too.
Our journey through the beautiful surrounding region takes you to lakes and rivers, into healthy forests thick with trees, and to the five magical towns of the Fachwerk5Eck, the "half-timbered pentagon."
JOURNEY IN TIME whets your appetite for Göttingen.
This book from ASTtext+bild MEDIEN is dedicated to the people of this city and the region.
And to all those who love them.
Hardcover 142 pages
ISBN: 978-3-944480-08-4
Price: 22,50 €
Premiere JOURNEY IN TIME Göttingen 2019 (please click for larger pictures)
Editor, title page & artwork: Andreas Stephainski
Publisher: ASTtext+bild MEDIEN GmbH / Edition ZEIT REISE
Authors: Hans-Reinhard Jessen, Klaus Plaisir, Dr. Dr. Gudrun Schwibbe, Dr. Dr. Michael Schwibbe.